Air Conditioning From CAS-Hire Will Keep Your Staff & Machinery Cool
Daniel Savoury
CAS-Hire Manchester win an industrial portable ducted air conditioning hire contract with a large pharmaceutical factory in North Wales to maintain a comfortable steady working environment temperature for the start of summer 2016.
On this occasion, CAS-Hire was required to provide four (4) of our HSC3500 Industrial Portable ducted air conditioning units each with a 7.3kw cooling capacity.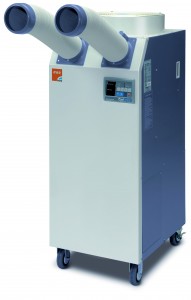 Our HSC3500 models produce 7.3kw of cooling from a single-phase 230v 13 amp or 16amp electrical power socket /supply. This extremely popular unit is a fully enclosed internal unit have three 5″ dia directional cooling supply ducts to pinpoint the cool air specifically where you need it and also a 12″ diameter flexi duct exhaust which must be directed to a suitable external or ventilation point. The flexible ductwork is supplied and can be extended up to a 10-meter maximum length with easy to assemble push-fit connectors making setting up a relatively simple and speedy procedure to undertake.
This particular model is ideally suited to provide portable temporary reliable cooling for Factory production lines, offices, Switch rooms, call centres, laboratories, hotel function rooms, marquees, large open showrooms, IT server rooms and much more.
---
The heavy-duty industrial portable ducted air conditioner can provide and maintain a variable temperature range from 20-38deg Celsius quickly and boasts an excellent airflow rate of 960m3/hr within a room size of 58m2. The hardy metal-cased units are robust and fully portable supported on strong large heavy-duty castors.
HSC3500 air conditioner Weekly hire rates £169.00 ex. vat.
(Hire rates exclude carriage and installation fees)
Alternative similar systems can be found on our Industrial Portable ducted air conditioning page on our website